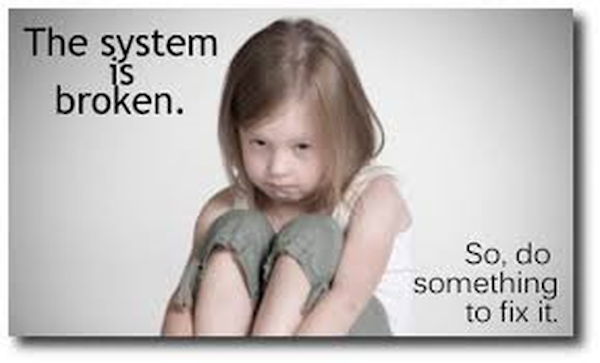 Every report since the creation of the Department of Children and Family Services (DCF) under the Department of Health (DHS) has reported a shortage of workers. Each year's Congressional Report for every state claims that children do not receive the care that they deserve because "there are not enough workers", "because there is not enough money to pay them". Each year taxpayers give the department more money and up the QUOTA to meet the next year's requirements for funding. Each year, each state meets the QUOTA set by the federal government to meet the requirement for the next year's funding.
The Adoption Incentive Program (Congressional Research Service)
First let's look at what Florida is doing, and then California. After that will be links to data from all states across America that shows how the foster care system is failing:
Florida
This year in Florida workers are claiming that they do not have enough workers and that there is not enough funding. So, what's new? The numbers are updated. They change and though numbers do not mean a lot to some people, we have to realize that these numbers represent real live children. The United States most vulnerable children. These numbers represent children whose ties to their own family have been severed and have no one to advocate for them unless we do. Taxpayers have to take an interest. Even if none of the children belong to your family. You pay for it every time you pay taxes, and of course you care what happens to your money. Some may even care what happens to the children that the money is supposed to support.
A few quick facts from a report that I read on February 12, 2022:
Florida has "nearly 600 case-manager positions statewide — around 40 percent of the budgeted workforce — are either vacant or filled by someone who has NOT completed the necessary training to manage cases", said Kurt Kelley, president of the Florida Coalition for Children.
LifeStream Behavioral Center has 7 employees managing 80 or more children and four responsible for at least 90 children.
Hillsborough has 112 case managers on 3,100 children's cases.
"LifeStream is budgeted to hire 48 case managers but had only 13 on staff as of Feb. 7, according to state data. Three of those were in training and ineligible to take on cases."
"It's extraordinarily concerning and, frankly, dangerous for children in Hillsborough County," said Robin Rosenberg, deputy director of Florida's Children First, an advocacy organization.
Case managers are responsible for making sure that the needs of children in foster care are met. "They make sure foster kids attend school, receive counseling and medical treatment. They supervise visits with parents and siblings. Case managers also attend the child's court hearings and, by law, must set eyes on the child under their care at least once a month. On top of all that, it's their job to make sure parents follow the court's plan to get their children back," Christopher O'Donnell reported, "It's a heavy burden, which is why the Child Welfare League of America recommends that those in the job oversee no more than 17 cases at a time".
"Case plans" can change at any minute and often case plans change at the last minute, when parents have already completed what was on the list to do in order to get their children back. Sometimes parent's "jump through all of the hoops" doing everything that they can to get their children home, but they lose anyway. Their children lose even more. They lose their entire family, all of their friends and everyone they know. They are often moved to an area far away from everyone and everything that they know. A good case manager really is their best chance at any kind of life.
Three of the 13 staff on duty as of Feb. 7 at LifeStream had NOT completed training, and Lifestream was budgeted to hire 48 case managers. What is going on? There are thousands of vulnerable children passing through this system every day! And it is not just happening in Hillsborough County Florida. It is happening all across the United States. Every year, decades of reports from every state report that they failed because they do not have enough workers, and every year taxpayers give them more money to hire more workers.
Florida is struggling to retain and recruit foster-care case managers. Kurt Kelley, president of the Florida Coalition for Children said, "Nearly 600 case-manager positions statewide — around 40 percent of the budgeted workforce — are either vacant or filled by someone who hasn't completed the necessary training to manage cases".
"Only 25.1 percent of children entering foster care in Hillsborough leave within a year, the second-lowest rate among Florida's 19 child welfare circuits. That is well below the state's target of 40.5 percent. Children whose cases are handled by LifeStream Behavioral Center case managers fare even worse with 18 percent exiting foster care within a year. That's despite the county having about 200 fewer children in foster care since the end of 2018".
There may be 200 fewer children in foster care in Hillsborough now because in 2018 President Trump signed the "Family First Preventative Services Act into law. The new law is intended to reduce the number of children entering the foster care system by offering services to families and by allowing family members such as grandparents and aunts and uncles to adopt their own family's children. The Family First Act also ended funding to group homes that the FBI literally caught "pimping children out".
88% of children rescued in sex trafficking operations were trafficked from state custody!
"Rosenberg said foster parents have told her that some case managers have delegated their monthly visits with a foster child to other case managers, who fit the trip in during lunch breaks or after work. She is worried that case managers won't have enough time to work with parents, increasing the risk that children will languish longer in the system."
Hillsborough Circuit Judge Katherine Essrig says, "It's evident to all who work in the system there are too few caseworkers and those working are stretched too thin. It's very difficult, if not impossible, for them to do their job properly".
Do the parents even know when the visitations and court dates are? Lawyers have told Judge Essrig that "some parents already are missing court-ordered visits with their children, visits with parents should typically start within 72 hours of a child being removed and are considered vital to reassure distressed children that they have not been abandoned". The judge said lawyers told her some of those still haven't taken place weeks later.
A January 14, 2022, report from Eckerd Connects shows that one manager was supervising 154 children! Do the parents even know when the court dates are? Do they have a case plan?
"An estimated 33 million workers have quit their jobs since spring 2021 in what has become known as the 'Great Resignation'. That has left companies and agencies struggling to recruit and retain employees," reported O'Donnell, but seriously, can this really be blamed on recent events? The Department of Children and Families (DCF) has never in more than 40 years reported success. The next pitch is the usual cry for more money:
"The foster-care sector may be more vulnerable than most", Kelley said. The average starting annual salary for Florida case managers is around $38,000. That's not competitive for a demanding, high-stress job that involves working with parents who may be emotional, if not hostile, about having their children removed, Kelley said". And then he added, "They can now go and get a different type of work for more money and have fewer threats on their lives and less stress. We have to be more competitive and have to make sure we have a well of workforce resources," O'Donnell reported as if Kelley actually believes that the foster care "crisis" is something new.
Reports do show Hillsborough case managers have been quitting in droves. "The turnover rate at LifeStream was almost 150 percent for the past year; across the county, the rate was 138 percent." Kelly said concerned as if he is concerned that the foster care industry may fail this time around. However, every state, and every county across the United States has always had a high turnover. Maybe tearing families apart goes against human nature and tears at a person's soul as much as it tears at the children's very souls when they are ripped from everyone and everything they have ever known.
Child protection workers discuss their experiences working for Foster Care.
Foster child regularly abused, sedated, restrained, and locked in seclusion. Uvea Spezza-Lopin's story.
Hearing that adopted children were abused freaks out an advocate that was abused as an adopted child herself.
Eckerd Connects and LifeStream cited the pandemic and the job market as factors in the shortage of case managers. "The COVID-19 pandemic has presented unparalleled staffing challenges for employers across the country, including in the child welfare system in Florida," the statement reads. "Case manager turnover is an ongoing challenge for many child welfare agencies, as most resign within three years of employment, and is not isolated to the Tampa Bay area."
"Eckerd Connects is taking steps to relieve the pressure on LifeStream, said spokesperson Ron Bartlett. In March, the agency started an in-house case-management unit and transferred 347 children from LifeStream. The nonprofit was taken out of the rotation to accept new foster children for four weeks in late 2021. And it hasn't taken on any new cases in about a month."
Let's hope that Eckerd Connects is taking steps to relieve the pressure on the children too! Does anyone know how that decision turned out? "Bartlett said Eckerd Connects plans to transfer 200 more children to its in-house case management team."
Florida put Eckerd Connects under a corrective action plan in 2018 for several issues it found in Hillsborough, including its failure to find placements for teens who end up sleeping in offices and for not maintaining adequate staffing levels. (8 on Your Side investigation)
"The state agency announced in November that it would not renew Eckerd Connects' $80 million contract to run foster care in Pinellas and Pasco counties. The decision came after Pinellas Sheriff Bob Gualtieri said he intended to launch a criminal investigation into the nonprofit, which allowed children to sleep in 'deplorable conditions' in unlicensed offices."
"One child living in an Eckerd Connects' office was hospitalized after falling off a ladder and cutting open his stomach while trying to climb onto the roof, Gualtieri said. Another overdosed on someone else's prescription medication."
The nonprofit responded to the loss of its contract in Pinellas and Pasco by announcing it would walk away from its $87 million Hillsborough contract when it expires June 30.
"The Department expects Eckerd to fulfill its contractual obligations by continuously ensuring an adequate number of qualified and trained staff are available to provide services," said Department of Children and Families spokesperson Laura Walthall in an email, "but unfortunately, it once again appears that Eckerd is failing to meet the needs of the community."
"Florida law does not mandate a specific ratio of foster children to caseworkers, but it does require the Department of Children and Families to give foster agencies sufficient funding, so case managers are not assigned more than 19 cases."
"Foster care agencies have complained they don't get enough money to meet that target and that state funds are not allocated based on the number of children served. That is the result of a 2015 rule intended to shield agencies from declines in funding when the number of children they serve falls. But it also meant there was no guarantee that those agencies would receive extra funds when foster-care populations rose, which is what has happened in Hillsborough, Pinellas and Pasco counties over the past five years," O'Donnell reports.
Citrus Family Care Network, which runs the child welfare system in Miami-Dade and Monroe counties has taken steps to stop case-manager turnover. The foster population has fallen by several thousand over the past seven years. O'Donnell reports that it is "because its funding has remained steady, however, it has been able to increase the starting salary for case managers by about $10,000 to $52,000. The agency reports that its case manager turnover rate averaged 4.2 percent over the past 12 months. The average caseload for each worker was about 16 children".
"All of a sudden they got tremendous applicants and they're not losing anybody," said Kelley, the lobbyist for lead agencies. The preliminary budget proposed in the Florida House in this year's legislative session includes an additional $127 million for the child welfare system. If that is matched in the state Senate, it would mean the Department of Children and Families could fully fund every agency based on the number of children they serve. That would include funding to hire more case managers and pay higher salaries, he said. "This is something that no one could have foreseen — this came upon us so strong and so fast. I'm convinced if we get the money in the right place, we can stop the drain," Kelley said seemingly unconcerned that the needs of the children and their families is still not being met.
O'Donnell's report can be found at 154-kids-1-case-manager-103000289.html.
Corrective Action Plan Reports Archive https://www.floridahealth.gov/programs-and-services/correctional-medical-authority/corrective-action-plan.html.
The evolution of child welfare reform. Crystal Collins-Camargo, University of Louisville
California
Young adults aging out of foster care are less likely to graduate high school, attend college, or get a degree. California says that it costs society to turn these children out into the streets and according to the Annie E Casey Foundation, it is very much costing society money. Annie E Casey says that if aged out foster youth had the same outcomes as youth who didn't age out, the US taxpayers would save $4.1 billion.
The outcomes for foster youth is not good and everyone realizes that. According to an article by KTLA, California officials have stated that "the average age of a juvenile human trafficking victim in California is between 12 and 14 years old, and 70 percent of victims come from the foster care system." A deep desire for a family & distrust of authority can make youth particularly susceptible to being recruited by gangs for trafficking.
Here are a few quick stats from Finally Family Homes for California that came out today. Remember that these are real live human beings whose lives could turn out very differently if they are given the same opportunities and care that we all want our own children to have:
Nearly 60,000 California children are in foster care, with more than a third living in Los Angeles County.
Currently, over 16,000 youth are waiting to be adopted in California.
71,000 are waiting to be adopted nationally.
Every year about 4,000 youth age out of care in California. According to Walden Family Services, 65% leave foster care at age 18 with no place to call home.
In a representative sample of foster youth in California, over one-third of aged-out 19-year-olds experience homelessness, and over 40% couch-surf (Courtney et al., 2016).
About 1400 age out in Los Angeles and of those, at least 400 become instantly homeless upon aging out.
According to the Los Angeles Homeless Services Authority, about 36 percent of chronically homeless youth in LA County said they were involved in foster care at some point in their lives. (From 2016, the most recently gathered data that included foster care histories).
As far as human trafficking in California, the statistics vary based on what the raid & rescue organizations report. From what we've seen the number varies between 60-90% of those rescued come from the foster care system.
Finally Family Homes is in the Los Angeles area and has a plan to provide for their basic needs including housing and food, empower them to build an economic foundation for self-sufficiency, and create healthy relationships in a safe and caring community.
For more resources check out the resource page and the archives.
Differences between Kinship Guardianship and Adoption.
Quick facts about the foster care system crisis.
Some States make birth certificates available to adoptees.
88% of children rescued in sex trafficking operations were trafficked from state custody!
Child Sex Trafficking and the Child Welfare System
How Foster Care Youth Become Trafficking Victims
Child Welfare Case Preparation (Fostercare systems), What I wish I had known. Case Preparation Child Welfare Cases.
Minding Hearts Resource Guide: https://mindinghearts.com/resources/
Minding Hearts is building advocacy and peer support groups in each state.  The groups are created to raise awareness, educate, and advocate for those that might not otherwise be heard. We are here for encouragement, education, and support. We cannot give legal advice, but we can try and direct you in the right direction with your case. Links to legal services are listed with their states. Please share and let's grow our groups. We are here to support families and develop resources that maintain family integrity. We look forward to your support. If you would rather become active by donating, then visit the donation page.
For more stories visit Minding Hearts Archives