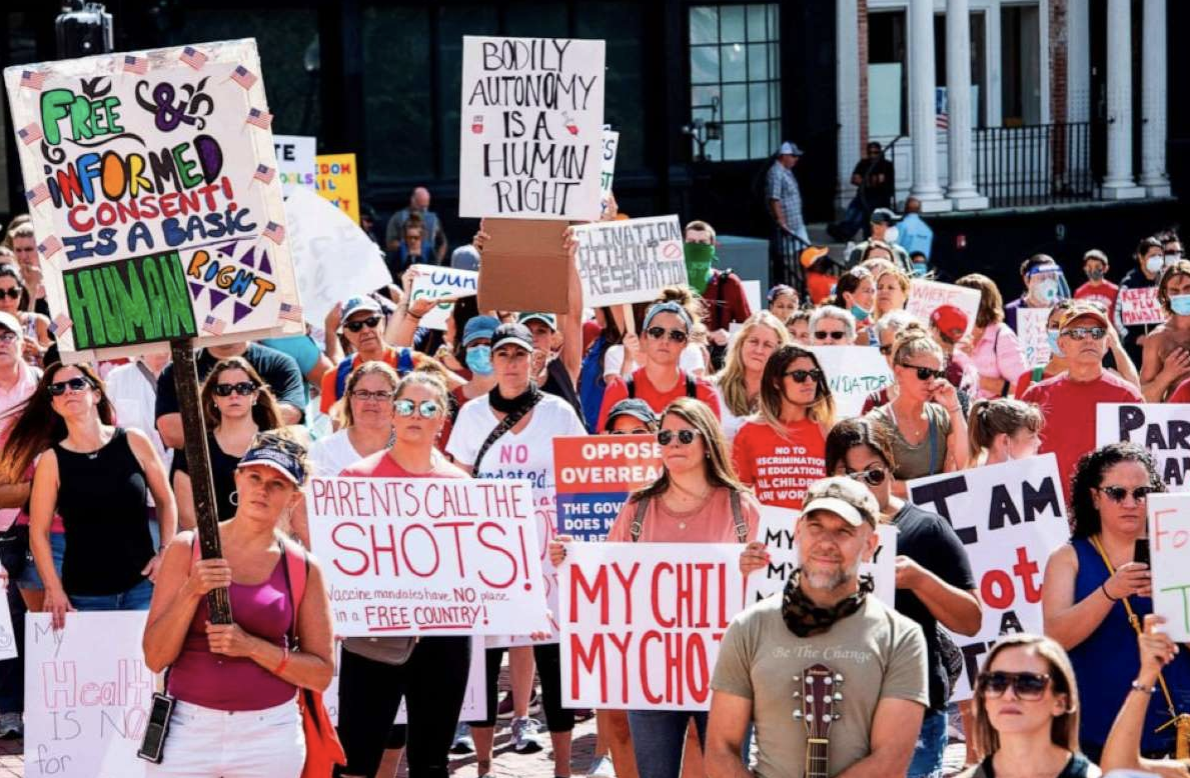 A Chicago judge ruled that a mother could not see her 11-year-old son because she was not vaccinated, in New York a three-year -old was separated from her family over a covid vaccine disagreement, and an unvaccinated father in New Brunswick, Canada just lost custody of his three children.
The judge is allowing the New Brunswick dad to interact with the children over Zoom and will reevaluate the case if the father does get vaccinated. One of the children is a 10-year-old immunocompromised child, according to reports from the CBC. USA Today reports that the father presented research to the judge that he believed questioned the safety and efficacy of the Pfizer-BioNTech vaccine, but the judge ruled against it saying;
"His own anecdotal research on such a highly specialized topic carries little to no weight in the overall analysis when measured against the sound medical advice of our public health officials," wrote Justice Nathalie Godbout of the Court of Queen's Bench.
In Cook County Illinois Judge James Shapiro asked a mother during a child support hearing over Zoom whether she was vaccinated. The mother of the 11-year-old boy said no, and the judge stripped her of all parental rights until she receives the vaccination. The decision was later reversed through an appeals process.
"I've had adverse reactions to vaccines in the past and was advised not to get vaccinated by my doctor. It poses a risk. I was confused because (the hearing) was just supposed to be about expenses and child support. I asked him what it had to do with the hearing, and he said, 'I am the judge, and I make the decisions for your case,' Firlit, told the Chicago Sun-Times in an interview.
Judge Matthew Cooper refused to let a Long Island father see his 3-year-old until he got the COVID-19 vaccine. New York Judge Matthew Cooper decided to punish a three-year-old little girl, her Dad, and their family over a vaccine disagreement. All the while that this case was happening, Karen Rosenthal, the child's attorney, appointed by none other than "her friend" Judge Cooper, charged the family a whopping $600 an hour. Judge Cooper also ordered the father to hire another "friend", his favorite private firm, Comprehensive Family Services for "supervised visitation" at a cost of $400 an hour.
As if the courts are not already using the unchecked authority of the Department of Health and Human Services to separate tens of millions of children from their parents and extended family members under public health law and not common law. This is taking place while at the same time people are protesting and rallying against vaccine mandates in Canada, the U.S., and around the world. The leaders of a Canadian group of truck drivers, the 'Freedom Convoy 2022' held a news conference to address various issues surrounding their ongoing protest against vaccine mandates and restrictions. The demonstration against COVID-19 vaccine mandates and restrictions has gripped the city since it began on January 28, 2022 on Parliament Hill and continues.
Reports show that children are far less likely than adults to be hospitalized or die from COVID-19. However, the World Health Organization recommends that children get vaccinated to avoid disruptions to their education. The WHO also recommends that children who have possible comorbidities, diabetes, Down Syndrome, or cardiac, lung, and kidney diseases get vaccinated and boosted as soon as possible to reduce risk.
Minding Hearts is building advocacy and peer support groups in each state. . The groups are created to raise awareness, educate, and advocate for those that might not otherwise be heard. We are here for encouragement, education, and support. We cannot give legal advice, but we can try and direct you in the right direction with your case. Links to legal services are listed with their states. Please share and let's grow our groups. We are here to support families and develop resources that maintain family integrity. We look forward to your support. If you would rather become active by donating, then visit the donation page. Thank you.