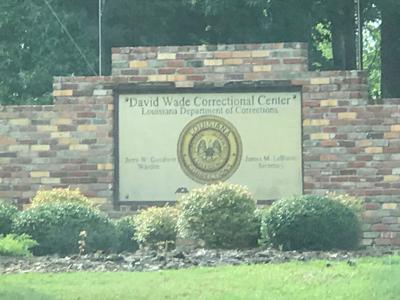 A class-action lawsuit filed against David Wade Correctional Center in Claiborne Parish over inadequate mental health care and improper use of solitary confinement finally goes to trial. The lawsuit was filed by Roderick and Solange MacArthur Justice Center and Disability Rights Louisiana (formerly known as The Advocacy Center). They claim that "prison officials do not properly screen, diagnose or treat mental illness for prisoners held in solitary confinement — also referred to as 'extended lockdown' or 'restrictive housing' — where they are held in their cell for 23 hours a day and rarely allowed social interaction".
"These extreme conditions create mental illness, and exacerbate pre-existing mental illness, causing psychotic decompensation and propensity for acts of self- harm. Some people hear voices, or talk and scream to themselves. Some engage in cutting themselves and attempting suicide to escape the extreme conditions. Two men have sliced open their testicles and one attempted to cut off his ear. Another man climbed a barbed-wire fence and attempted suicide by diving off headfirst. Others bang their heads against the walls."
U.S. District Judge Elizabeth Foote, who was appointed by President Barack Obama will hear the case. According to the constitution, UN & US peace treaties, the Americans with Disabilities Act, and the Rehabilitation Act if the allegations are found to be true (and surely thousands upon thousands cannot be making all of this up) the alleged way that prisoners are treated violates their rights to be free from cruel and unusual punishment.
Lawyers plan to "illustrate a pattern in which prisoners with mental illness are not properly diagnosed or treated, placed in solitary confinement where their conditions get worse, and then are punished through undue uses of force, more disciplinary write ups, and placed on suicide watch, causing further deterioration".
Nick Chrastil, a reporter from The Lens says that "Attorney General Jeff Landry's Office says that those claims are significantly overstated. They argue that all prisoners being held in solitary confinement at David Wade 'either have no serious mental illness or are in remission or are stable,' and that the treatment provided to them is constitutionally sufficient". However, prisoners, their family and friends, and even lawyers say differently and that prison officials are causing harm.
Civil rights attorneys representing the prisoners allege that prisoners are not adequately screened for mental illness, and that their prior records are not sufficiently reviewed by prison staff "to identify whether the person has a mental health diagnosis that would require treatment or care inconsistent with the extreme isolation of solitary confinement or extended lockdown". Once in solitary, the lawsuit charges that prisoners "receive virtually no treatment for mental illness," and that due to lack of monitoring by prison staff "psychiatric decompensation goes unnoticed, as does the onset of new symptoms."
Chrastil says that a psychiatrist is contracted by David Wade to meet with prisoners with mental illness at least once every three months, but the lawsuit alleges that those relatively infrequent sessions are ineffective due to the fact that they generally last only three to five minutes, are not confidential, and that no treatment, other than medication, is ever prescribed. Civil rights attorneys say, "There is no individual counseling, group therapy, or support group available for people on extended lockdown, regardless of an individual's diagnosis or response to medication". But David Wade Correctional Facility's own records show "show gaping holes in the distribution of medication."
The lawsuit alleges that prisoners are frequently subjected to both physical and verbal abuse from staff. That is also a commonly know problem with the illegal and inhumane use of solitary confinement. Of course, the Department of Public Safety and Corrections deny many of the allegations in the suit, and claim that none of the deficiencies in mental health treatment at the jail rise to the level of being unconstitutional. David Wade Correctional Facility argues that it "has a robust system that (i) identifies and diagnoses mental illness; (ii) treats mental illness with a psychiatrist and mental health staff; and (iii) appropriately uses restrictive housing to deliver safety to the public, DWCC staff, and the other offenders".
The defense would be funny if solitary confinement was not commonly known to increase symptoms of pre-exisiting conditions and even cause mental and physical conditions where none existed before, but the trial attorneys for the prison plan to call into question the reliability of prisoners' testimony regarding their treatment in solitary confinement, who they characterize as "dangerous and violent men, some of whom are transferred to David Wade because they cannot be housed in other prisons".
Of course they cannot be housed properly with other prisoners. That is the point. Solitary confinement causes mental illness and makes any pre-existing conditions even worse. What kind of defense is that? Certainly, the men may get on the stand and say something that no one understands and that certainly no cruel prison guards would ever understand. No one goes into or comes out of solitary confinement okay. Solitary confinement is intended to break a person mentally and physically. If it is used long enough and in the right conditions solitary confinement is meant to drive someone completely insane and slowly torture a person until they commit suicide. It will be interesting to watch how the judge deals with this case.
Original story by Nick Chrastil at The Lens, Class-action lawsuit over conditions and mental health care at David Wade correctional set for trial next week.
Related: Yes! Class action status against Wade Correctional Center in Claiborne Parish, Louisiana means advocates can move forward.
Minding Hearts is building advocacy and peer support groups in each state. The groups are created to raise awareness, educate, and advocate for those that might not otherwise be heard. We are here for encouragement, education, and support. We cannot give legal advice, but we can try and direct you in the right direction with your case. Links to legal services are listed with their states. Please share and let's grow our groups. We are here to support families and develop resources that maintain family integrity. We look forward to your support. If you would rather become active by donating, then visit the donation page.