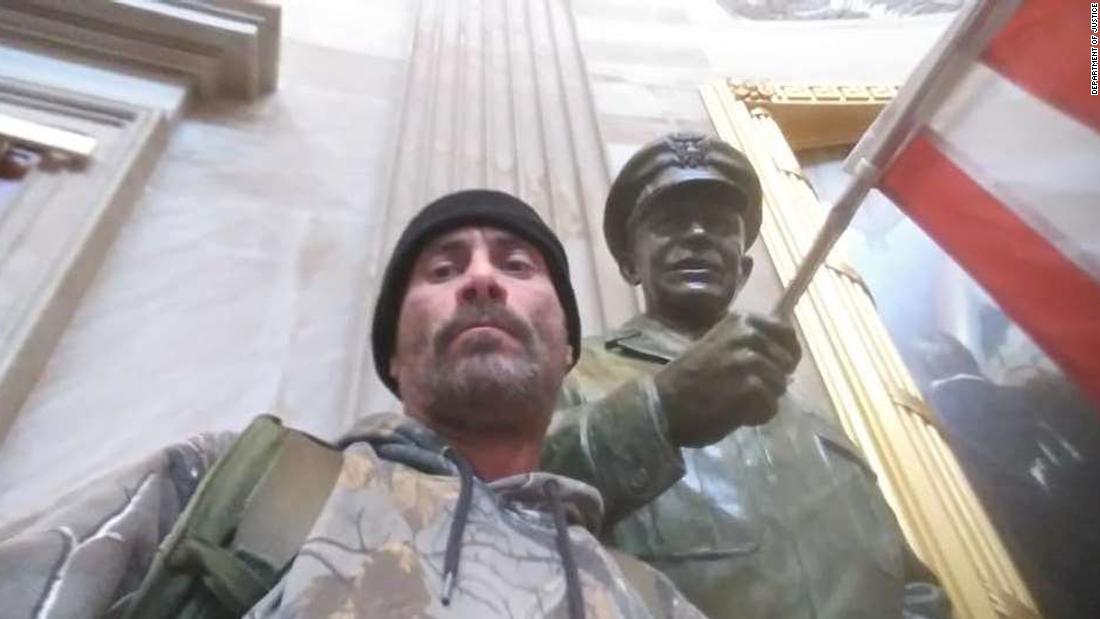 Troy Williams, an alleged Capitol Rioter from Michigan is one of more than 700 people to face charges related to the events at the Capitol on January 6th last year. He has pled not guilty to 5 charges, two of which charges include "violent entry and disorderly conduct on Capitol grounds". But didn't the capitol police open the gates and invite people in?
He was set to get married in Peru and made a request to Chief Judge Beryl Howell to work at St. Anthony's Kitchen in Jamaica for ten days while visiting his fiancé's family before the wedding. And although other defendants who were at the Capitol that day have been granted rights to travel out of the country, "This Court will not commemorate the one-year anniversary of this attack on the Capitol by granting defendant's request for non-essential foreign travel when he is awaiting judgment for his actions on that day," Chief Judge Beryl Howell wrote.
Evidence against Troy Williams that was collected by the FBI suggests that he allegedly referred to January 6th as "the proudest day of my life", and a video that was shot while Williams was allegedly inside the Capitol "talking about how he and others 'stormed' the building "pushed back the cops that used pepper spray," says FBI agent Matthew Hughes in a sworn affidavit. He referred to himself as a "Operation Swamp Storm Veteran," and described what happened at the Capitol that day as a "modern day tea party," and that Williams said that "every lie will be revealed".
Williams said he wished to visit Jamaica from Jan. 31 to Feb. 10 to meet his girlfriend's family. He planned to stay with her at her father's home in Negril and work at St. Anthony's Kitchen that feeds the poor," according to the motion filed by attorney Benton Martin, Troy Williams's attorney. "Respectfully, his demonstrated compliance with conditions in this case is compelling evidence that he will continue to comply with conditions if this request is granted," the attorney added and said that "he has consistently appeared" at court hearings since March of 2021.
Judge Howell and the FBI have other plans for Troy Williams though. Officials from the FBI say that they learned of Williams because of an online tip by someone who sent screenshots of Williams's Facebook account. Federal agents later obtained pictures and videos of Williams inside the Capitol and in one video Williams allegedly says, "desperate times call for desperate measures," FBI Agent Hughes stated. Williams is also allegedly in pictures next near statues that were once inside of the Capitol. Hughes says that in another video related to the police using pepper spray on people that were there that day that Williams said "we took this … building", and the agent also says that on Nov. 13, 2021, that Williams denounced on Facebook the "'Americans' who participated in the fraudulent scheme to overthrow our duly elected President" as "TRAITORS". Williams allegedly included several hashtags in his post: #FightBack, #HOLDTHELINE, #Trump2020 and #NoRetreatNoSurrender. Court documents reveal that he said, "Every lie will be revealed".
Judge Howell said that he understood why Williams wanted to "spend ten days in the warmer climate of Jamaica," and that "Although such a meeting may be an important step in the defendant's personal relationship, he surrendered his entitlement to unfettered international travel when … he allegedly announced his intent to 'Storm the Swamp' ".
It used to be, back when the United States was almost a completely different country that judges would sentence troubled youth and misguided people to military service and or community service. The idea was that although defendants had broken some law or were on the wrong path that they and their communities would benefit by the offering of public service. Some may think that those are outdated ideas and others may agree that those types of sentences are beneficial to society.
It is not uncommon for defendants awaiting trial to ask permission to go on vacation. The majority of requests are approved by judges. Accused Oath Keeper Donovan Crowl was allowed to travel for the holidays, and just a month after the alleged insurrectionJenny Cudd, a flower shop owner and former Midland mayoral candidate, and an alleged rioter from Texas was allowed to go to Mexico for a "work-related bonding retreat". Why were some "insurrectionists" allowed to leave the country for work related to public service but not Williams?
Minding Hearts has public groups, "Hearts and Minds" in each state. The groups are created to raise awareness, educate, and advocate for those that might not otherwise be heard. We are here for encouragement, education, and support. We cannot give legal advice, but we can try and direct you in the right direction with your case. Links to legal services are listed with their states. Please share and let's grow our groups. We are here to support families and develop resources that maintain family integrity. We look forward to your support. If you would rather become active by donating, then visit the donation page. Thank you.