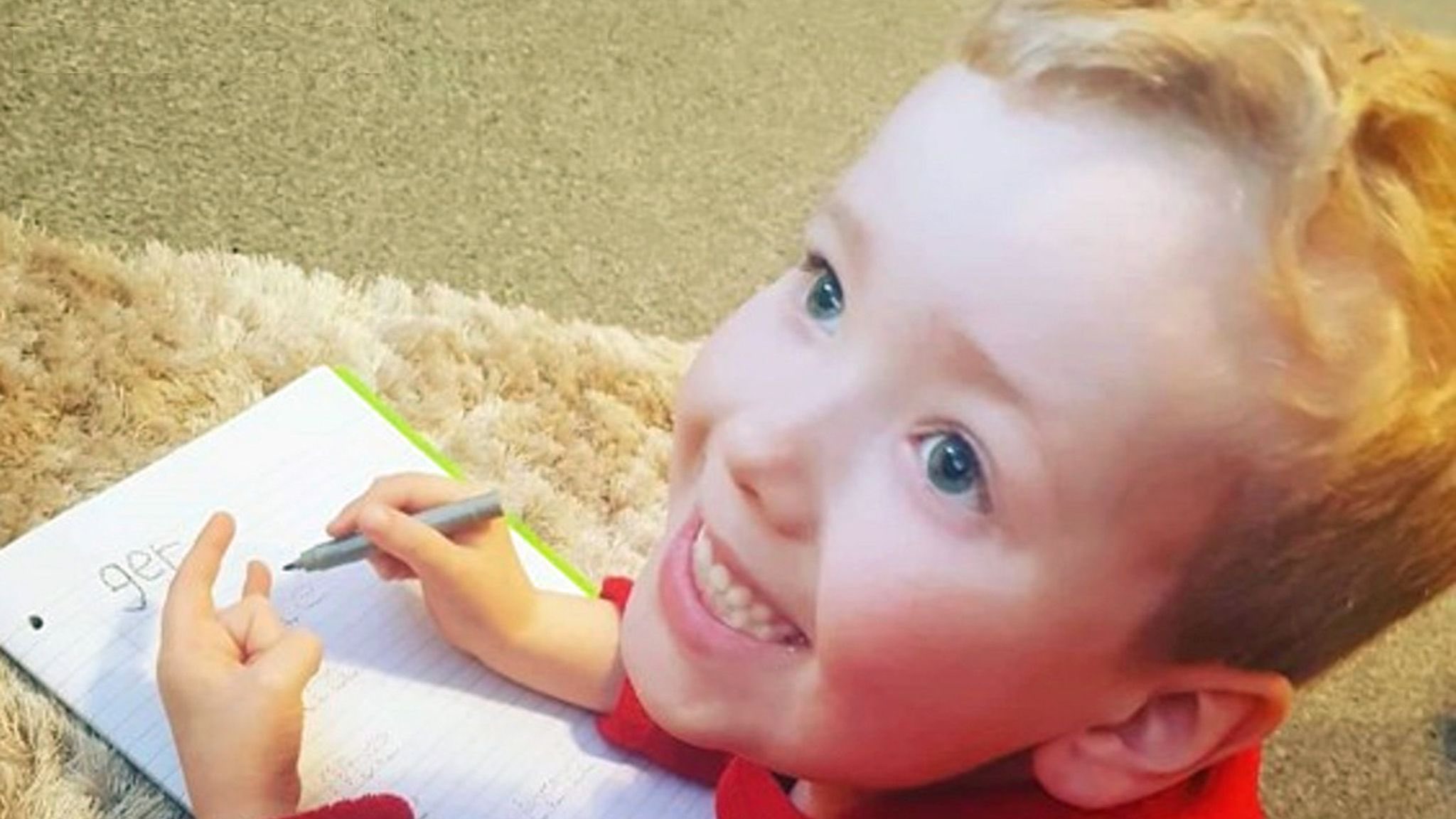 Arthur's death could have been prevented. An "independent" review is underway, but no one is taking responsibility.
Thomas Hughes was found guilty of manslaughter and sentenced to 21 years. Emma Tustin, his wife and the stepmother that delivered the final attack that killed 6-year-old Arthur Labinjo-Hughes was also sentenced to 21 years behind bars.
The paternal grandmother, Joanne Hughes, and one of Arthur's uncles reached out for help from social services and police for months before Arthur was killed, but both social services and the police failed to investigate. Social workers concluded there were "no safeguarding concerns". Police said that social services would investigate. Arthur was left to suffer until he was killed.
Arthur's had 130 injuries at the time of his death. Prosecutors say that Arthur was tortured, forced to eat salt, denied water, beaten, and forced to stand "12 to 14 hours" a day, seven days a week. The child did not even have a bed to sleep in.
Olivia Labinjo-Halcrow, Arthur's mother is serving an 11-year sentence for stabbing her lover, Gary Cunningham. She said that she never imagined that this would happen and focused on the memories of her son saying, "He wasn't just my only child, he was my best friend".
Arthur's teachers say that he was showing difficulty processing his mother being away and that they noticed behavior changes.
On April 16, Solihull Council social workers visited Arthur after his grandmother, Joanne Hughes called to report bruises that she saw on his back. Workers, Jayne Kavanaugh and Angela Scarlett-Coppage reported that they found a "faint" yellow bruise and that they found Arthur in a "happy household" with Tustin and Hughes, and that there was no cause for concern.
On April 24, Joanne Hughes sent pictures of deep purple-colored bruises to social services.
Jayne Kavanagh said after the supervisor showed her the pictures of the purple bruises that she was "shocked" and that she only saw a "faint" yellow bruise. Unconcerned, she stood by her report that Arthur's "faint yellow bruise was due to play-fighting with another child".
Social services failed to investigate further so Joanne Hughes made two more reports; one to West Midlands Police, and another to the social services duty team.
The NSPCC hopes to learn lessons from Arthur being brutally tortured to death. Lessons Learned! Really????….. The lesson should be that when a grandparent calls reporting bruises and concern that the agency send competent workers that will investigate! Instead, rather than admitting that the agency failed to help Joanne help Arthur and keep him alive and safe, after the convictions the NSPCC said "the convictions must be the start of the process to uncover the full chain of events that ultimately led to Arthur's death and to establish the lessons that need to be learned to prevent this awful case from happening again", and went on to blame the Covid lockdown for their failure to investigate Joanne's reports.
Rather than admitting that social services consistently leaves children in horrific situations to die at the hands of psychotic abusers, The NSPCC also blamed the lockdowns for their failure to investigate Joanne's reports. Though they did say that they received more calls during the lockdown. Did they fail to investigate those reports too? If so. Why are they still being paid to investigate reports? It is rather obvious year after year social services fails to investigate actual reports of abuse and that most of the children taken into custody are taken because of "neglect" which usually means that the family is poor, not that the children are abused.
Scarlett-Coppage told jurors she "could see a faded bruise" but nothing more.
Scarlett-Coppage agreed that social services closed the case on the referral because Thomas Hughes "did not consent to further contact". Well Gee Whiz Scarlett, since when does that stop social services from taking children out of their homes?
Bernard Richmond, Hughes barrister said in his closing speech to the jury, "Don't pay too much attention to what the social workers said, if I were you. As investigations go, that really was not their finest hour, was it?".
Emma Tussin had more than 200 recorded audio files of Arthur who was kept on video as he had to stand throughout the days without sitting before she finally killed him and can torture him no more.
West Midlands Police refused to investigate after one of Arthur's uncles sent the police department pictures of the bruises on Arthur. Sad, just sad that so many people knew that Arthur was being beaten and did nothing to help him.
The Independent Office of Police Conduct (IOPC) said it has conducted and concluded an investigation into the force's handling of the case and will publish its report. They did not say that anyone else that allowed the abuse to continue is charged. They did say that they "found no indication any individual behaved in a manner that justified disciplinary proceedings".
Stephen Cullen, chairman of the independent Solihull Child Safeguarding Partnership did not say anything about holding workers accountable for their investigations either. Instead, he said, "This terrible tragedy has had a shocking impact on Arthur's family and across the whole community. The tragic loss of a young boy in such terrible circumstances is dreadful. We send our heartfelt condolences to everyone affected. The circumstances around his death will now be subject to an independent review, the Local Child Safeguarding Practice Review, and clearly, it would be inappropriate for the partnership to comment ahead of the findings of that review".
"The Prime Minister found the details of this case deeply disturbing and his thoughts are with those who loved Arthur, and no child should ever suffer in the way that he did." Boris Johnson believes that "no child should ever suffer" in the way Arthur did, and there are questions that need to be answered over the case.
"It's clear there are questions that need to be answered to get to the bottom of how this happened. You'll be aware that a local child safeguarding practice review is underway to fully assess the circumstances surrounding Arthur's tragic death at the hands of those who should have been looking after him, and that review will look at local safeguarding, including police, children's social care, health and education professionals in the local area. We won't hesitate to take any action off the back of that review".
Minding Hearts is building advocacy and peer support groups in each state.  The groups are created to raise awareness, educate, and advocate for those that might not otherwise be heard. We are here for encouragement, education, and support. We are here to support families and develop resources that maintain family integrity. We look forward to your support. If you would rather become active by donating, then visit the donation page.