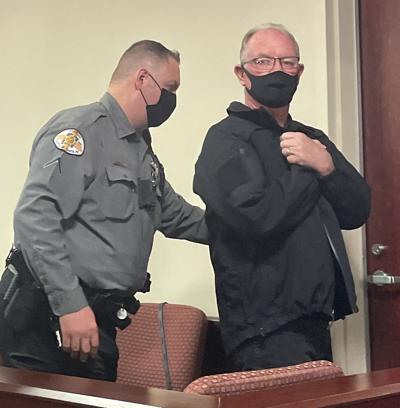 Santa Fe State District Judge, Kathleen McGarry Ellenwood sentenced the Rio Arriba County Sheriff, James Lujan to three years in prison and 1 ½ year of probation after a jury found him guilty of two felony charges.
A jury in June failed to reach a verdict following an initial trial where Lujan was accused of helping former Española City Councilor Phillip Chacon evade Española police after leading officers on a high-speed chase in 2017. After this second trial, Lujan was found guilty of aiding a felon and intimidating a witness. He also faces more misdemeanor charges.
Jason Bowles asked Judge Ellenwood to allow Lujan to remain free pending the appeal. The defense attorney says that Lujan plans to appeal the decision based on restrictions that hindered his cross-examination of Cody Lattin, the former sheriff's deputy who testified against Lujan saying that he was intimidated and directed not to tell anyone about Lujan's efforts to aid Chacon. Judge Ellenwood denied Bowles' request to let Lujan remain free.
Andrea Reeb, a special prosecutor for the 9th district does not expect a reversal of the decision. Reeb was appointed to prosecute Lujan on a misdemeanor case because Lujan was accused of showing up at Chacon's house drunk and trying to take over an operation in 2020 while police were executing a search warrant. Then she noticed a pattern with the sheriff that led her to investigate further. Numerous people called accusing Lujan of doing wrong but were afraid to say anything publicly.
"I started noticing a pattern with this individual. Every encounter with law enforcement was combative. It was always a power thing with him. It was always this arrogance. It was always, 'I'm the top law enforcement official in the land, or in Rio Arriba County. That led us to start the investigation in this case", Reeb said.
A former secret service worker and a private investigator, Dennis Maez told the court of other instances that Lujan was accused of illegal and unethical behavior:
A pending civil case filed by the American Civil Liberties Union alleging he harassed a journalist.
A suit filed by a former deputy in Lujan's office alleging he violated the state Whistleblower Act.
A $55,000 settlement Rio Arriba County paid in 2020 to a Chama man who said Lujan had pulled him over and shouted obscenities at him for flying a Mexican flag on his truck on the Fourth of July.
"During my time as a Secret Service agent, I was all over the world working with different law enforcement agencies. Big ones, small ones, rich ones, poor ones, and I have never, ever had the experience of dealing with a law enforcement agency like that of Sheriff Lujan's. I would say that if there is anyone who deserves a substantial term of incarceration, it's James Lujan" Maez said.
"My dad is my hero. The first 18 years of my life, I was attached to his hip. If anyone knows him, it's me. … Your honor, they try to make him look like an animal and monster, and he's not. He's the most honest kindhearted man I've ever met, and he doesn't deserve this", Brandon Lujan said as he stood up for his father stating that he is a Marine and a public servant who worked tirelessly to help his community.
Lauren Reichelt, Rio Arriba Health and Human Services Director also spoke to the court on James Lujan's behalf saying that Lujan worked diligently to combat drug abuse in the community. "Back then, none of the police were using Narcan and they all looked at it as a way of enabling people to use drugs." She said that she got to know Lujan after speaking to him about substance abuse treatments and that he helped her train all of the deputies. "We saw our overdose death rate drop by 36%, and that would not have happened without the sheriff's help and without his leadership".
Judge Ellenwood acknowledged that Lujan had accomplished things that benefited the community, but felt that the Sheriff had let his people down. She stated, "While all elected officials have a duty to fulfill the responsibility of their elected office, there are some elected officials such as a judge, a district attorney and a sheriff that are held to a higher standard".
"Rio Arriba does not have its own laws, nor is the law applied any differently there than anywhere else in the state. The law is the law. You are not above the law, nor can you ignore the law when it serves your purpose", the judge told Lujan when she sentenced him.
About an hour later, Lujan resigned as sheriff. Rio Arriba County Manager Lucía Sánchez said that he sent a letter that said "he was stepping down with a heavy heart". The Rio Arriba County Commission will attend a closed door meeting Monday to discuss replacing Lujan.
Minding Hearts is building advocacy and peer support groups, "Hearts and Minds" in each state. The groups are created to raise awareness, educate, and advocate for those that might not otherwise be heard. We are here for encouragement, education, and support. We cannot give legal advice, but we can try and direct you in the right direction with your case. Links to legal services are listed with their states. Please share and let's grow our groups. We are here to support families and develop resources that maintain family integrity. We look forward to your support. If you would rather become active by donating, then visit the donation page. Thank you.