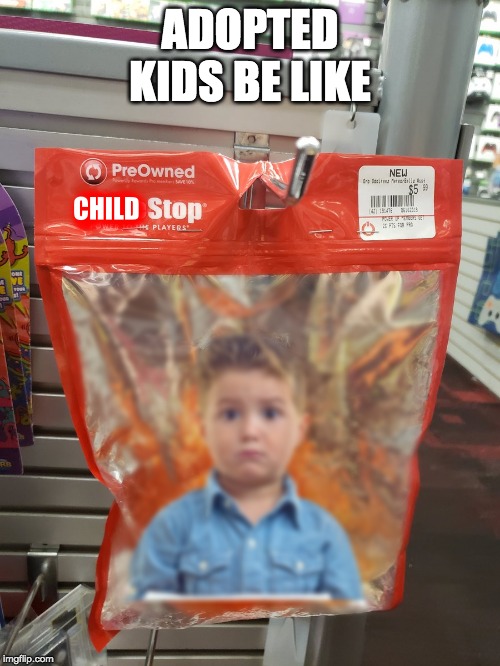 Adoption is trauma. Moses Farrow, like many others, believes that adoption stole his identity, So much so that he became an adoption trauma coach and educator. Facebook, Twitter, Youtube, and Instagram hosts thousands of platforms for individuals and groups of foster and adopted people. State agencies, CASA, churches, and adoption agencies paint a picture of adoption as being something "beautiful", but it's really not.
Children that lose their entire families, their identity, their heritage, and their culture struggle in ways that most of us can not even imagine. Even if adopted children are lucky enough to end up in a good home with people that care about them, they have still lost everything.
Imagine for a minute that your name is changed and you are moved into a stranger's house in a strange city where you are then told that they are "Mom and Dad", and then you meet the rest of your "new family". It would be a nightmare for anyone.
The nightmare continues though because most adoptive parents do not want any contact or interaction from biological families. Children are usually told that they "were not wanted" or that "their parents were not good for them". Imagine your parents not being "good enough" or not being "wanted", and to top that off not even being able to discuss it with the new family that "saved" you.
It's a horrible way for a child to grow up. Many adopted children look for their family after they are grown. Every child wants to be wanted and loved by their family, and children still care about their less-than-perfect biological parents.
Some states are now offering original birth certificates to adoptees so that they can find their past and where they belong. Alabama, Alaska, Colorado, Connecticut, Kansas, Maine, New Hampshire, New York, Oregon, and Rhode Island offer U.S.-born adoptees and their birth parents unfettered access to original birth certificates. Some states (Arizona to North Carolina to Wyoming) require a court order to allow adoptees access to their own original birth certificates. Other states such as Delaware, Iowa, and Pennsylvania allow adoptees to purchase original birth certificates, but only with the birth parents' names redacted. In Indiana, Vermont, and Washington, birth parents have the power to veto an adoptee's request for access. To find out more about specific states check out Gregory Luce's Adoptee Rights Law Center on his OBC website.
Renee Gelin and Lisa Woolsey have gathered over 877 volunteers that cover all 50 states at Saving Our Sisters where they work to preserve family while also offering adoption services as a last resort. If you or someone you know is pregnant and in need of help reach out. SOS provides education and information that adoption agencies and other legal professionals may not explain. SOS volunteers provide detailed facts, explaining possible risks so that pregnant mothers can make a truly informed choice. (https://savingoursistersadoption.org/.)
Bellis is a volunteer-driven, multi-service nonprofit with no political or religious affiliation or agenda based in Minnesota that provides volunteers (who include birth parents, adopted persons, adoptive parents, and adoption social workers) that provide peer-based support services for anyone with an adoption experience.
There are many other lawyers, social workers, mental health professionals, adoptees, and family members of those that have been taken by the adoption industry that passionately work to change the way that the system works for children. Please comment with any other resources that adoptees and their families will find useful. If you want to be added to the resource list on the website let us know, and if you offer support services that you want listed on the social website let us know that too. Thanks.
Minding Hearts is building advocacy and peer support groups in each state.  The groups are created to raise awareness, educate, and advocate for those that might not otherwise be heard. We are here for encouragement, education, and support. We cannot give legal advice, but we can try and direct you in the right direction with your case. Links to legal services are listed with their states. Please share and let's grow our groups. We are here to support families and develop resources that maintain family integrity. We look forward to your support. If you would rather become active by donating, then visit the donation page.